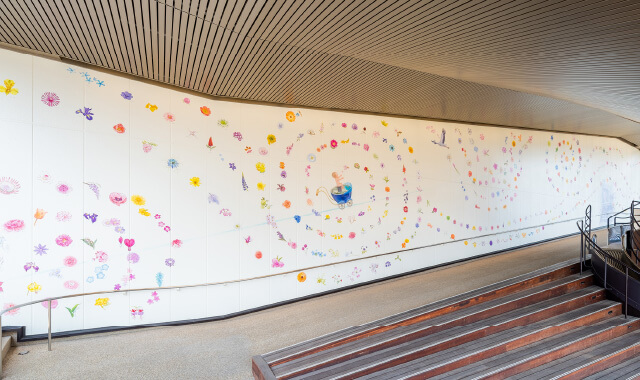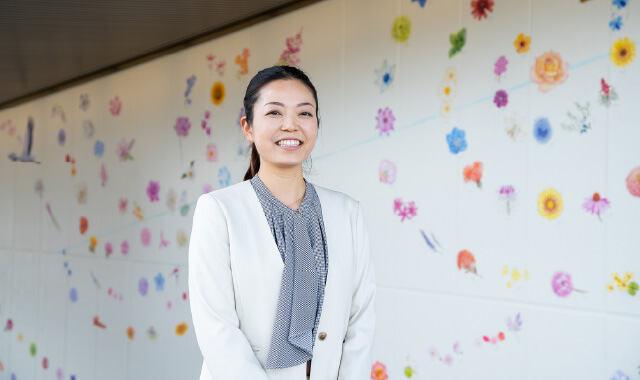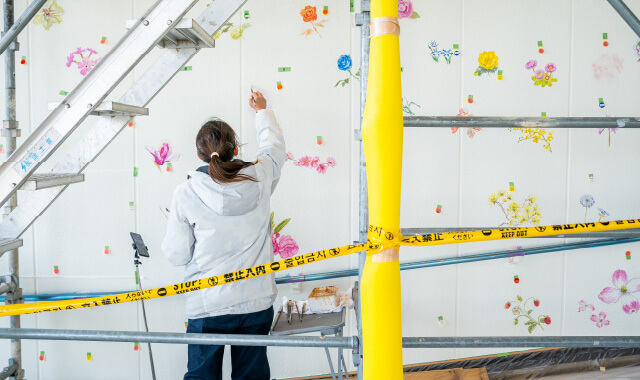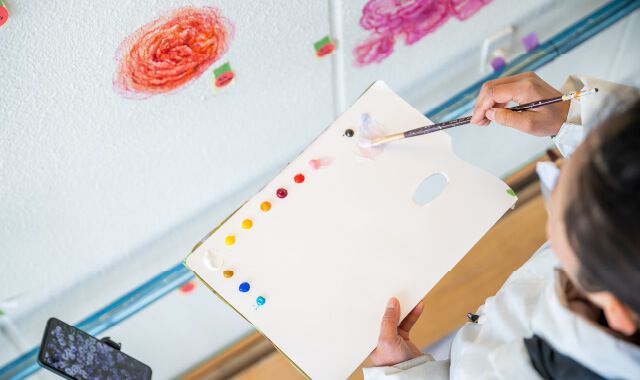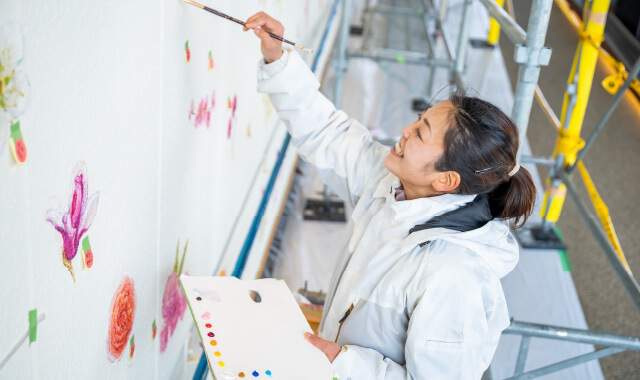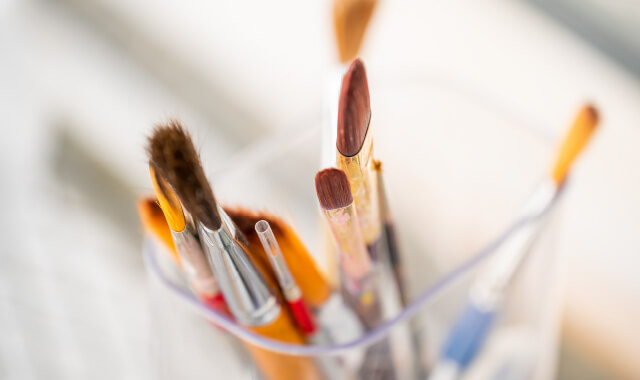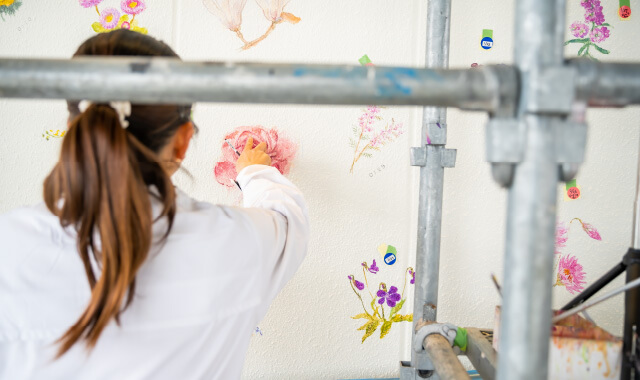 Concept
Title: 謳花 366 birthday flowers
Year 2045, the curtain to a new age is raised.
With birthday flowers of all colors and the flows or swirls they form, the artist expressed the way in which a new age is being created by "individuals" in full bloom.
A mechanism has been devised where each visitor is able to find his or her own birthday flower so that each visitor may be allowed to focus on "oneself". (Each one of the birthday flowers of the 366 days in a year including leap day (February 29) is dated and can be searched on the website for identifying flower name, flower message, location in the wall painting)
The baby carriage or pram holding the town of Hiroshima symbolizes the Earth.
The carnation in the center of the swirl of May symbolizes motherhood. The rose in the center of the swirl of August symbolizes peace.
The baby buggy carrying a baby on the blue road leading from carnation (motherhood) to the rose (peace) represents the road on which each individual aims at the happy self while cherishing one's own past and root, and represents at the same time also the road on which Hiroshima and the Earth march toward a peaceful future.
In the lower right, the artist has painted in the tunnel rocks of Misen, holy mountain of Miyajima, so that this place may become the entrance to one's new self.
The artist would be happy if this installation provides an opportunity for a viewer to openly enjoy his or her own life.
Webpage for searching birthday flowers→https://visionprojector.com/hanakotoba/
Profile
After graduation from Kanazawa College of Art, majoring in oil painting at Department of Fine Art, worked for 6 years in display business.
Also had an experience of supervising show window displays at a local department store. Being unable to decide on painting career, had spent a long hard time in facing white canvases. However, there was a time when the artist realized that "One is able to paint for the sake of wishes of someone else." It was an occasion when she donated a painting to a man who was forced to seal off his dream due to an unexpected accident. On the painting she represented his cherished dream. Since then, she started a business mainly targeting enterprise owners in which she intends to encourage the society by visualizing in paintings the vision of a client.
The artist is continuing her activities of fine art consultancy for visualizing the ideas under a fictitious business name "Vision Projector".